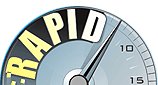 the fastest file defragmentation utility
The latest versions
Rapid File Defragmentor version 1.4 build 686:
added: Spanish localization (thanks to Roberto Paiva)
fixed: Russian localization
Rapid File Defragmentor Lite version 1.4 build 620:
added '-r' option. It allows to process subdirectories.
Rapid File Defragmentor Lite prints filenames with non-English characters
If you have a technical question you can use this form to submit an inquiry, and will usually receive a reply within one business day.
If you prefer to use your email client, you can write to support@rapidfd.com